With
Francesca Carella Arfinengo
Saturday, February 10
3:30 – 4:00 pm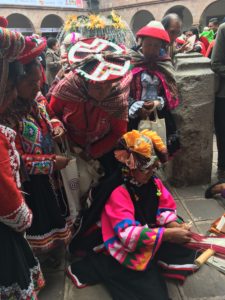 Francesca Carella Arfinengo attended Tinkuy, a gathering of textile arts this past November in Cusco, Peru. While there, she re-visited the richness of Andean textile traditions and learnt about the complexities of conserving millenary techniques. The sustainability of artisan life was at the centre of conference lectures, to which different indigenous co-ops and groups presented their approaches from the stage. Francesca asks what is the role of the artisan in the Anthropocene, and what value do handmade textiles have in our neoliberal economy? Join her in a discussion as she shares photographs, thoughts and samples of Andean textile work.
Francesca Carella Arfinengo is a visual artist and arts administrator born and raised in Arequipa, Peru. She obtained a BFA from the University of Manitoba, Canada in 2014. She works primarily in print media and textiles. 
Her work seeks to discuss the fluidity and hybridity of cultural identities developing a visual vocabulary for transculturalism, within the context of a neoliberal globalized world. Her practice includes socially engaged projects such as Steal this Gallery (an alternative economy mobile print gallery) and Letter Peddler Press (a mobile printing press used to facilitate free postcard making workshops).
This event is free and open to the public.
Wheelchair accessible.