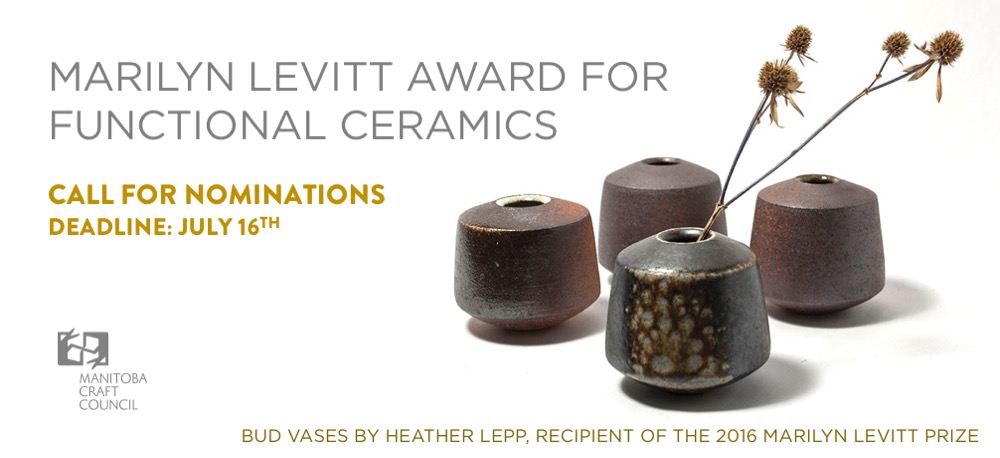 CALL FOR NOMINATIONS:
Deadline: Monday, July 16th, 2018
The Marilyn Levitt Award for Functional Ceramics will be awarded bi-annually to an emerging or mid-career, functional ceramic artist by the Manitoba Craft Council to honour the memory of the late Marilyn Wolodarsky Levitt, a Manitoba ceramic artist and educator.
An emerging or mid-career artist is defined as someone who is at an early or mid stage in their career, has made a serious commitment to their art and has publicly shown their work. Functional ceramics is defined as handmade works that acquire their full or partial meaning through use. Artists who have been awarded the Marilyn Levitt Award are no longer eligible.
NOMINATIONS:
Established members of the Manitoba ceramics community are encouraged to put forward nominations for emerging Manitoban ceramic functional artists they believe are deserving of this award. The nominator must consult the nominee on the potential nomination. It is then the responsibility of the nominee to prepare an application (see application requirements) with the help and guidance of their nominator. Our goal is to foster a sense of mentorship and community between the pairing.
An established artist is defined as an artist who is at a mature stage in their career and who has created an extensive body of independent work. An established artist has reached an advanced level of achievement by sustaining a nationally or internationally recognized contribution to the discipline.
JURY:
The jury will consist of established artists who will look for works that exemplify the Marilyn Levitt Award's core values: quality of work and technical skill, originality and commitment to artistic career.
MARILYN LEVITT AWARD:
The recipient of this award will receive the Marilyn Levitt Prize Fund, established by the family of Marilyn Levitt and held in trust by the Jewish Foundation, approximately $400.
The recipient of this award will also receive a full one-year membership to the MCC, a one week feature space in both the C2 retail shop and on the C2 website, as well as an event at C2 Centre for Craft where they may display their wares for sale. Sales will be subject to 40% commission.
Marilyn Levitt Award for Functional Ceramics Application Requirements:
Deadline: Monday, July 16th, 2018
As a nominated artist, please provide the following:
Short letter of nomination as provided by the nominator (1 page maximum)
Artist Statement (1 page maximum)
CV (2 page maximum)
10 digital images of your recent work. Use jpeg files with a resolution of 72 dpi, with image's height or width (whichever is larger) of 12 inches. File labeled with the applicant's name, image number. IE. Smith_001.
Image List: applicant's name, image number, title, size (L x W x H), year made and materials used.
Applications may be emailed to mcc@c2centreforcraft.ca with subject line of "Marilyn Levitt Award" or mailed to:
C2 Centre for Craft
Attn: Manitoba Craft Council
1 – 329 Cumberland Ave
Winnipeg MB
R3B 1T2
Please contact Jessica Hodgson with any questions at jhodgson@c2centreforcraft.ca or (204) 615 – 3951.