Basketry is an art that has maintained its roots in tradition and function throughout the thousands of years of its existence. Astrid Brunner notes that "vessels have been fashioned ever since mankind can remember. Like music, air, trees or language, they are ubiquitous and therefore taken for granted". Indeed, an everyday basket used for storing mittens or holding fruit may easily be taken for granted, however to consider the basket's origins is to reveal a wealth of information, and to realize that a handwoven basket holds much more than the things that we put in it.
The MCML collection is home to a beautiful array of baskets. According to Angelo J. Joaquin Jr, baskets are "cultural bearers that transmit important traditions and artistic knowledge" from generation to generation, and that a basket's identity is comprised of four specific elements: where it was made, when it was made, who made it and why. Unfortunately, most of the makers of the baskets in our collection are unknown, but with this in mind I think that it would be a great idea to delve into the identities of some of the wonderful baskets in our collection, according to these four elements.
The oblong basket in Figure 1 comes from the Northwest Coast region, which is located along the coast of what is commonly known as British Colombia. It was made in the late 19th century by a Salishan weaver, however the maker likely never saw it in use, as it was probably made for sale or trade. This basket is a natural beauty, with its imbricated triangle motifs and flowing handles, and it becomes all the more stunning when it we learn that it is crafted solely from Cherry bark, Cedar root and Cedar wood. It is constructed on a bundle foundation of Cedar root splints, and uses the continuous coil technique, painstakingly sewn with split cherry root. The reddish-brown colour on the basket is natural cherry bark, and the black was obtained by dying it with either black mud, or by soaking the bark in water containing iron.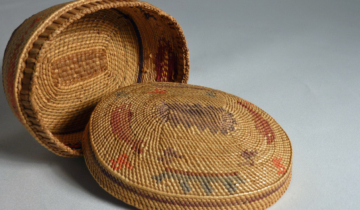 The small oval basket shown in figure 2 originates either from Northwest Washington State or Western Vancouver Island, since its style is shared by the Maka and by the Nuu-chah-nulth. Its date is unknown, and it was likely made for trade or sale. It was made using the plaiting technique, using grass, sedge, Cedar bark and aniline dyes to create a bright and whimsical motif on the lid that depicts boats, whalers, sea birds and whales.
The large birchbark basket above originates from the Red River region of the Western Subarctic, and its date and maker are unknown. In the Red River region, birch baskets with this type of pyramidal form are known as "rogan", and were historically used for food storage. Dyed Spruce root is used to create the floral motifs along the lid, and the basket also utilizes tanned moose hide.
This delicate Aleutian basket originates from Northern British Columbia. Again, its date and maker are unknown, however the basket's fragile and slightly damaged state indicates that it, like most baskets in our collection, is likely quite old. However, it is not only the age of this basket that makes it so fragile, but also the materials that it is comprised of: grass and silk. These materials were woven to create false embroidery in geometric designs along the body of the cylindrical basket, and is topped off with a knobbed lid.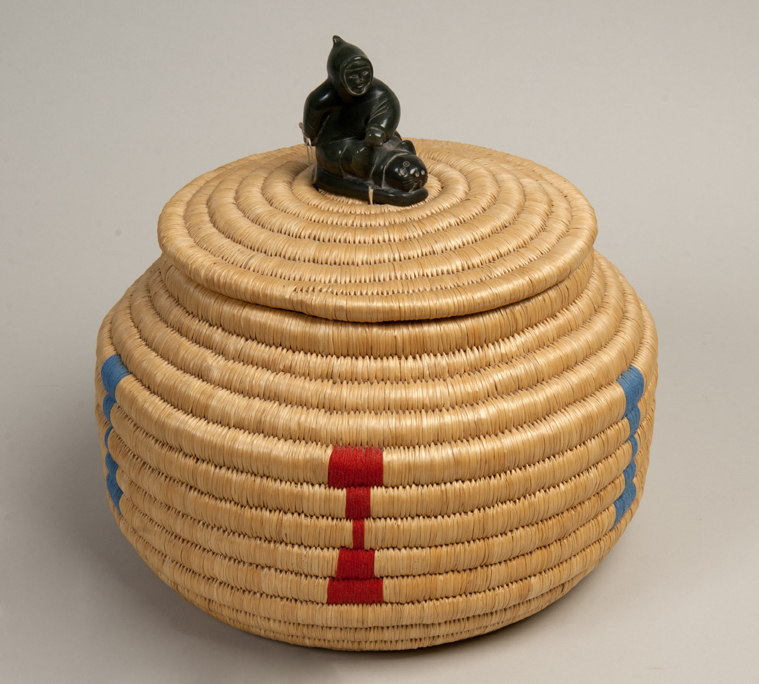 The basket in figure 5 was made for sale or trade by an Inuit basket weaver. In contrast to figure 4, this basket is very rigid and globular, created out of a continuous bundle foundation of grass that is sewn with closely-set stitches. The basket is decorated with geometric hourglass motifs done in dyed string that was incorporated as a weft strand during the sewing process. The knob is carved of a piece of green soapstone, depicting an Inuit hunter straddling a captured seal. The seal has a hole drilled into its head to represent a wound, and the hunter's mitten is drilled with a strand of sinew tied to it, representing the fishing line.
Getting to know a basket is like getting to know a new friend, a friend who a has wealth information to share, and who will never fail to hold anything for you. That being said, I hope that you were able to make some new friends today, and that you may come over to MCML soon to make some more!
Written by Alice Hamilton
MCML Summer Student, March 2021