Feast, Famine
Submission information for the MCC's 2022 Juried Show
INFORMATION AND DATES
– Submission deadline: December 5, 2021 at midnight
– Jury results will be sent out by January 5, 2022
– Successful artists must be able to provide catalogue info and images (detail or full) by January 28, 2022
– All works must be delivered to the C2 Centre for Craft with installation instructions by February 26, 2022
– Show opens on March 5, 2022
– All submissions must be submitted through Google forms (link below)
ABOUT THE SHOW
The Manitoba Craft Council is accepting submissions to Feast, Famine, a juried show exploring food, eating and food production as it relates to climate change. 
Feast, Famine will investigate how climate change relates to and affects food: how it's served, prepared, grown, and distributed. Accepted works will be presented on a large table in the gallery – an intimate setting for an intimate topic. Works can be placed on the table or surrounding gallery wall space, but we encourage submissions that integrate with the unique table display format. Functional and conceptual makers are welcome to apply for this opportunity. Please ensure submissions have a strong connection to both climate change/sustainability and food/dining/food production. 
Some areas of exploration artists may wish to consider:
How food is served: locally/land-sourced functional objects (dishes, place settings, table linens), works relating to take out and packaging materials, single use items, how we serve and eat food

How food is prepared: processed food, how we cook and store food, food waste, water waste, commercial food prep practices


How food is grown: farming practices, soil quality, factory farming, pesticide use, bees, fishing practices, land maintenance, irrigation

How food is distributed: food packaging, supply chains, food waste, seasonal/out of season access, food box deliveries, "ugly" produce, additives, shipping

How food affects our bodies: microplastics, nutritional quality, chemical footprint, water contamination

ELIGIBILITY
Must be a Manitoba Craft Council member to apply. (Not yet a member? Join at

c2centreforcraft.ca/about-mcc/mcc-membership/

)

  Please renew or buy your membership prior to submitting an application.  Only applications from current members will be juried for this exhibition.

Must be a resident of Manitoba (or northwestern Ontario) to apply

Works will be selected based on artistic merit, skill, design, and innovation

Original work (functional, decorative, conceptual) in any craft-based media is welcome (e.g.ceramic, fibre, metal, paper, recycled material, stone, glass and wood). 

In addition, mixed media and interdisciplinary works that are primarily craft-based in material and/or technique are welcome. 

Eligible works must have been completed since January 2019 and may not have been shown in previous MCC exhibitions. 

Artwork submitted must be completed prior to the submission deadline. Images of work in progress will not be reviewed by the jury.

Senior and emerging artists are encouraged to apply.

All submissions will receive an email confirmation within a week of submission. All submissions sent on the deadline date will be confirmed by midnight, December 6, 2021.

If you do not receive an email confirmation from an MCC staff member by that time, please email

mccprogramming@c2centreforcraft.ca

to confirm your submission.
SUBMISSION REQUIREMENTS
Writing:
Artist Bio (150 word max)

Tell us about your background, training, and education as a maker (150 word max)

What has influenced your work? What experiences, mentors, artists, research etc. have informed, inspired or progressed your creative work? (150 word max)

What techniques and materials do you typically use? What compels you to use these materials and techniques? (150 word max)

How does the submitted artwork relate to the theme of the exhibition? (150 word max)
Attachments:
A maximum of 6 images can be submitted. Please see image guidelines below

Image List (Image file name, Artwork title, medium, date). 

Please file in this format: image list/firstname/lastname (example: Image list John Doe)
Image and Attachment Guidelines: 
Additional images and writing beyond word count and image limits will not be reviewed by the jury

A maximum of 2 artworks per person can be submitted for review with up to 3 images of each artwork. This is a total of 6 images. At least one image should show the work in its entirety.  The other two images may be details or alternate views.

Please name image files in this format: Number/firstname/lastname (example: 01JohnDoe, 02JohnDoe)

Ensure your slide list includes image file names

Digital multi-image composites are not considered "one image" unless it is the aesthetic of the submitted artwork, such as collage or book pages. 

The grid shown would be four images, not 1.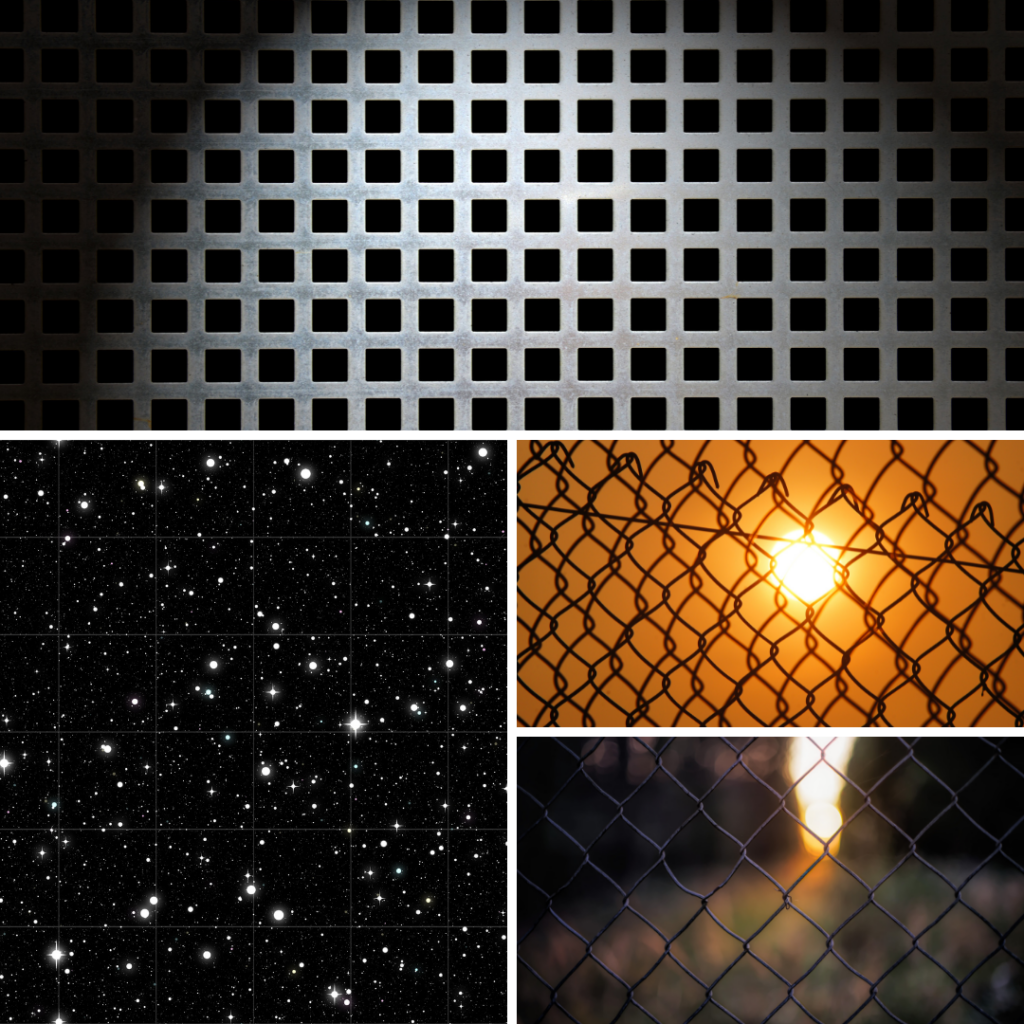 SELECTION PROCESS
MCC's exhibition selections are made by a jury consisting of experienced craftspeople, artists and/or curators. The jury reviews submissions within the context of MCC's exhibition policy, available resources and the mandate of specific exhibitions. Jurors' bios will be updated on the submission on the C2 Centre for Craft website before the submission deadline.
The MCC is committed to upholding professional standards including the payment of artist, curatorial and jury fees in accordance with CARFAC guidelines.  Professionally designed written materials will be prepared to accompany all exhibitions. All exhibitions will be promoted through MCC media and social media networks.  Ancillary programming will be developed to encourage audience engagement in all MCC exhibitions.
Get a sense of MCC by visiting our website, c2centreforcraft.ca and social media platforms.  To see a floor plan of the Shirley Richardson Craft Gallery visit: https://c2centreforcraft.ca/shirley-richardson-gallery-floor-plan
MEET THE JURY
Dr. Erin Weinberg is a scholar of English literature who teaches at the University of Manitoba. Her research uses food as a lens to understand affect in Shakespeare's dramas and Jane Austen's novels. Dr. Weinberg's most popular courses explore the significance of food in literature: the way it represents relationships, memory, culture, and more. She is a passionate home cook who enjoys hanging out with her cats and concocting different colours of hand-rolled gnocchi.
Born in Winnipegosis, Manitoba, Val Vent draws from a background of photography, ceramics, painting, engineering, design, theatre, performance art, music, travel and work with other Indigenous peoples.  Val's present direction in influenced by her heritage, as her genealogy stems from community artists and activists known throughout Manitoba's history.  Her greatest accomplishments are her children who carry forward both artistic and humanitarian efforts to benefit our community, and who are raising their Children, my Grandchildren who are proud of their Métis heritage and express this through their theatrical, art, sport, and community involvement as well.
Originally from a small town in Manitoba, Terry Hildebrand graduated with an MFA in Ceramics from the University of Minnesota in May 2014. He received a BFA Honours degree from the University of Manitoba in 2007. From 2009 until 2011 he worked as studio technician in the ceramics department at the University of Manitoba. In the years after his MFA he taught at Medicine Hat College, University of Manitoba, and has participated in multiple residencies at Medalta and the Banff Center while also exhibiting nationally and internationally. Terry and his partner Miriam Rudolph are full time artists based in Winnipeg, Manitoba.
ABOUT MCC EXHIBITIONS
MCC exhibitions investigate, expand or challenge the boundaries of contemporary and traditional craft. They position craft artists as leaders in exploring how craft media, techniques, culture and history intersect.
ASSISTANCE
For assistance with your application, please contact the Manitoba Craft Council at mccprogramming@c2centreforcraft.ca