This wildflower rug, designed and hooked by members of the Crafts Guild of Manitoba Rug Hooking Group in the 1940s, is an iconic piece in the MCML collection. While MCML also holds many CGM records, factors such as the Guild's closure in 1997 and a water main break in 1998 have led to these records becoming disorganized and incomplete.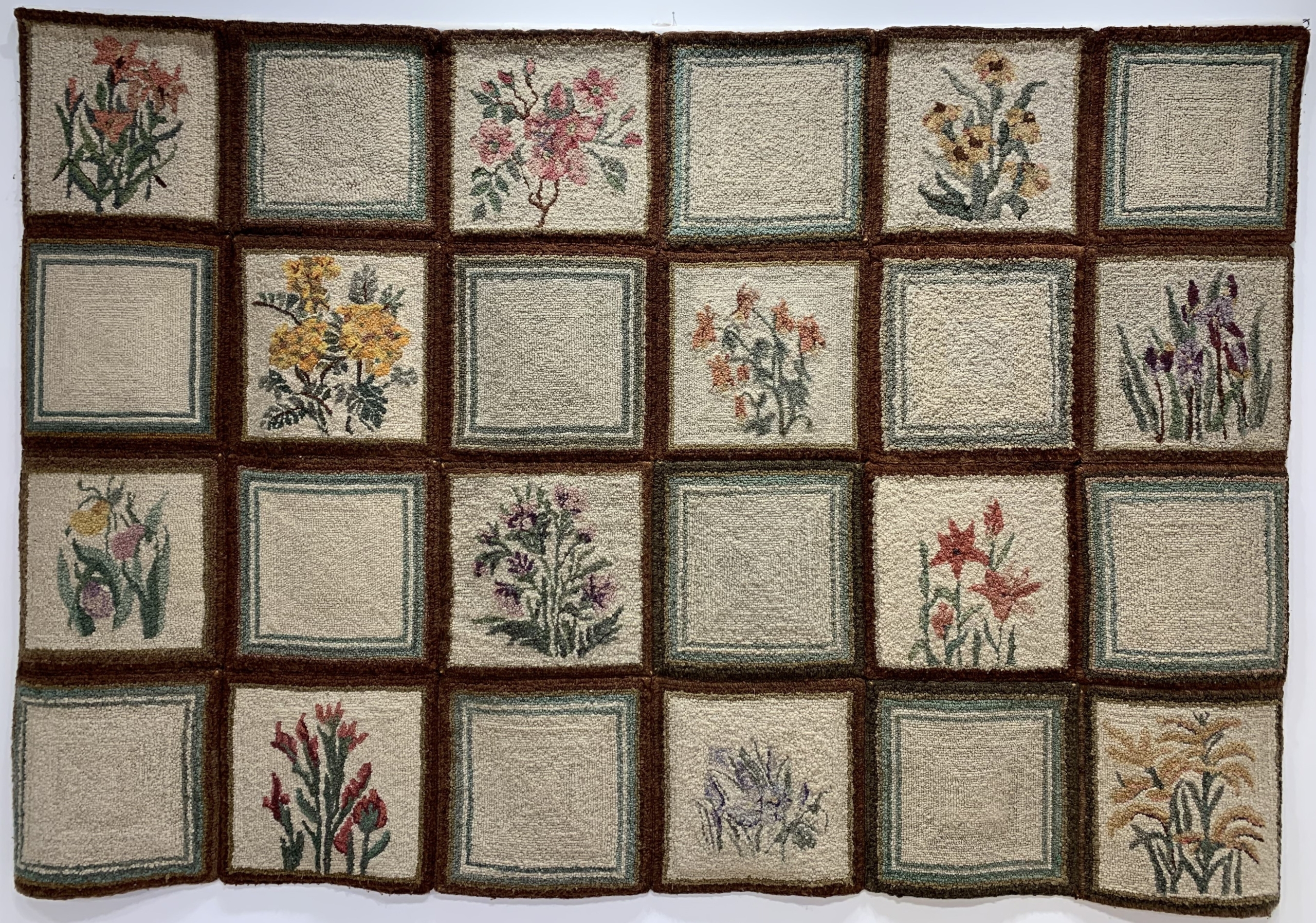 In the spring of 2022 MCML began a project to catalogue and organize our archival collections. During this project we found many records relating to the CGM, and specifically to the wildflower rug.
One find was a set of beautiful handmade patterns done in watercolour and oil pastel. Although the individual artists are unknown, these patterns were used by the Rug Hooking Group for some of the flower blocks in the wildflower rug.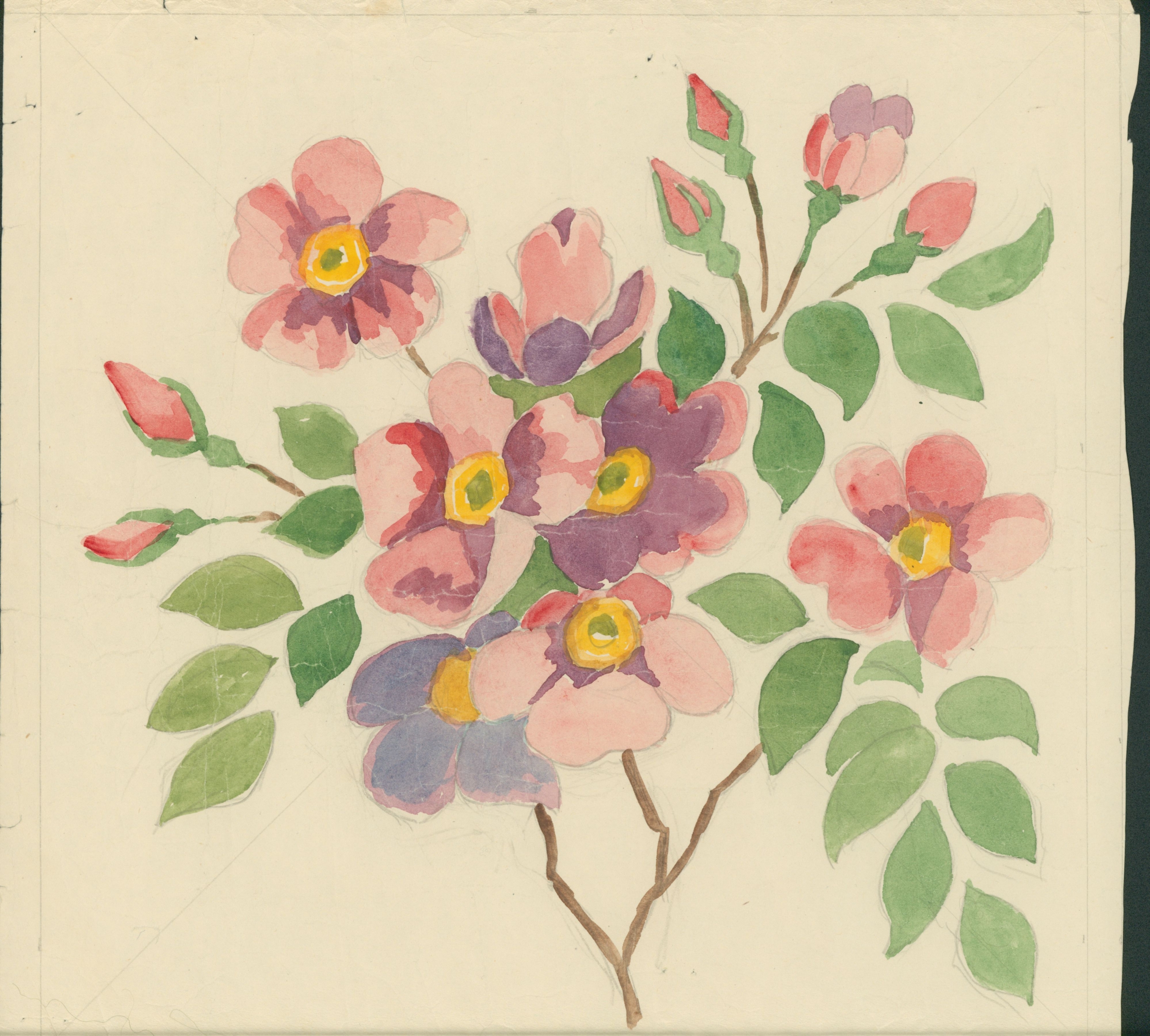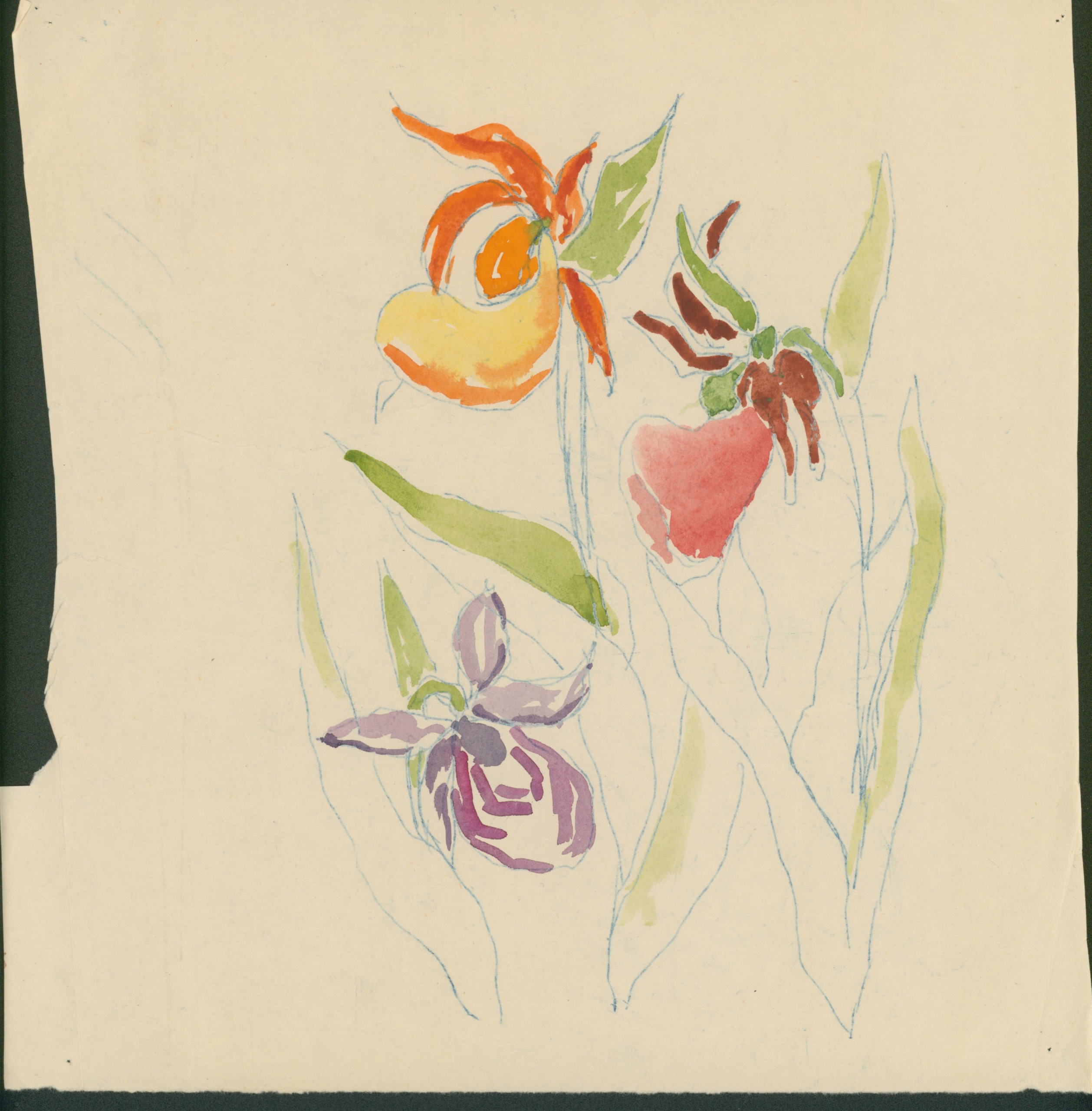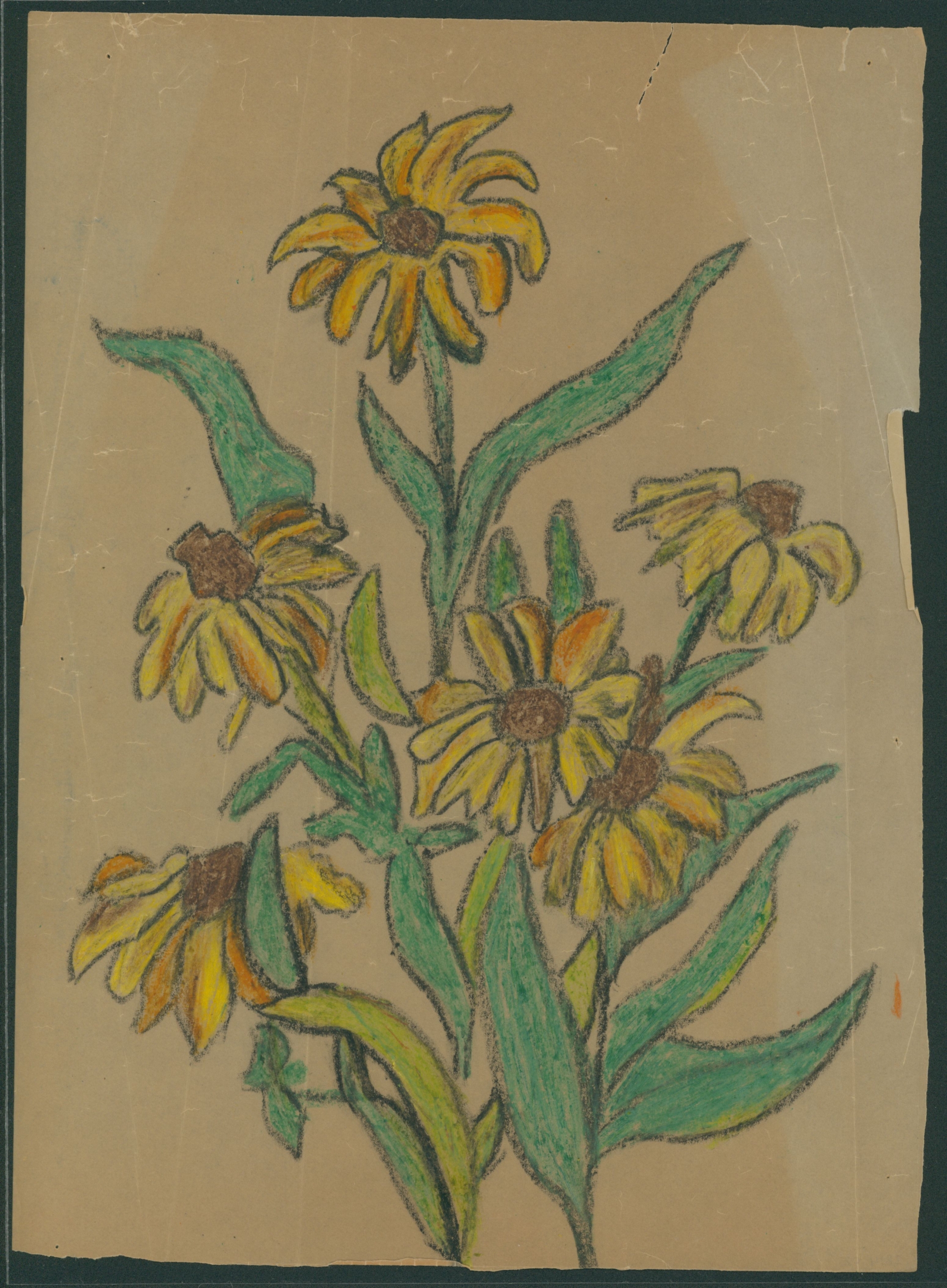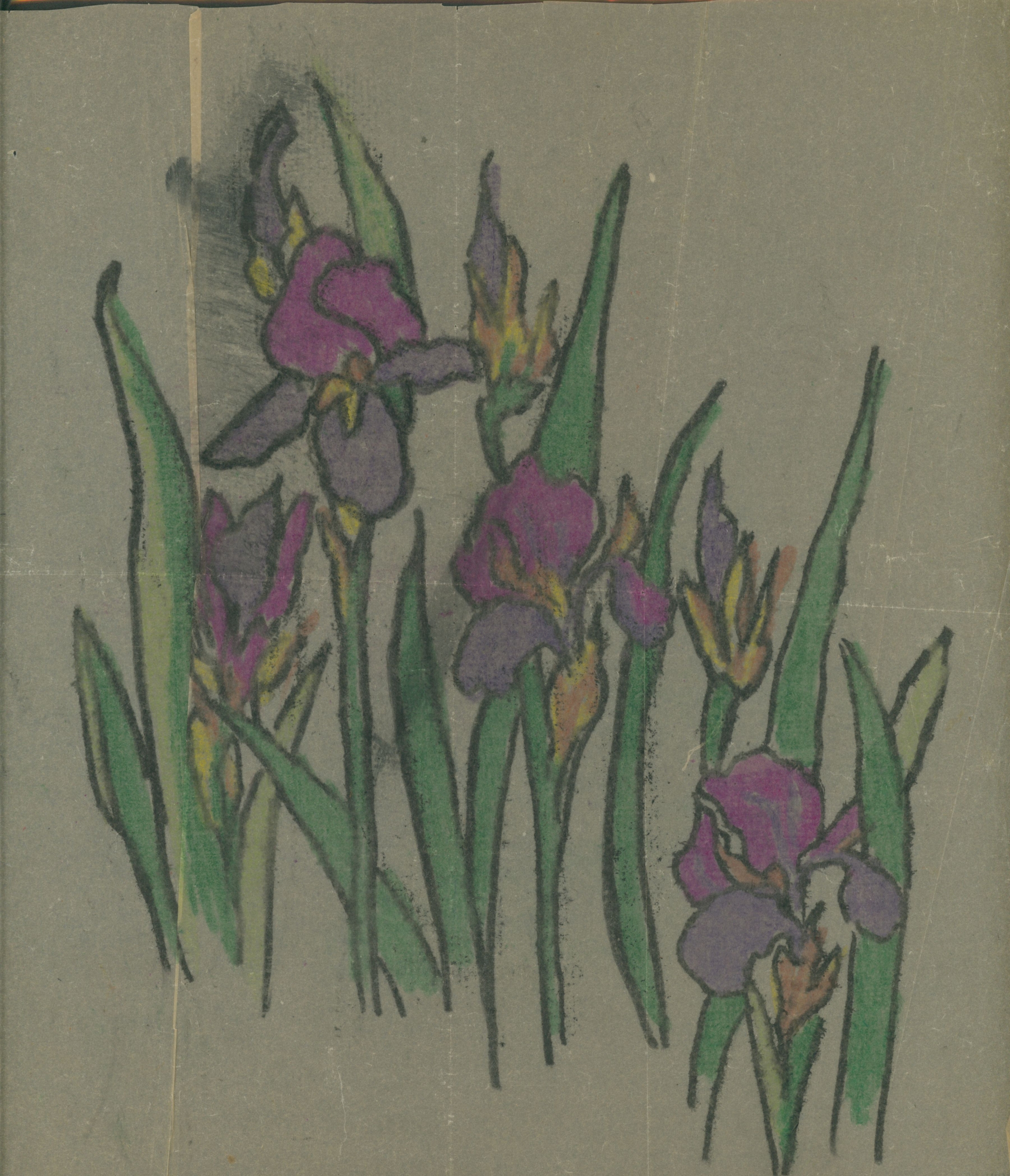 Other discoveries enhanced or corrected the scant information available about the rug. A page of planning details, for example, dates the start of the rug to October 1944 and shows that each flower block was assigned to a different member of the Rug Hooking Group. This document also credits the design of the rug to Sophia May Osborne. Several pages of handwritten notes detail the wool dyeing process, which was done by C. A. MacTaggart. These notes are contained in a notebook recording the Rug Hooking Group's activities from 1933 to 1947, compiled by Selina Lawrence (a prominent member of the Group).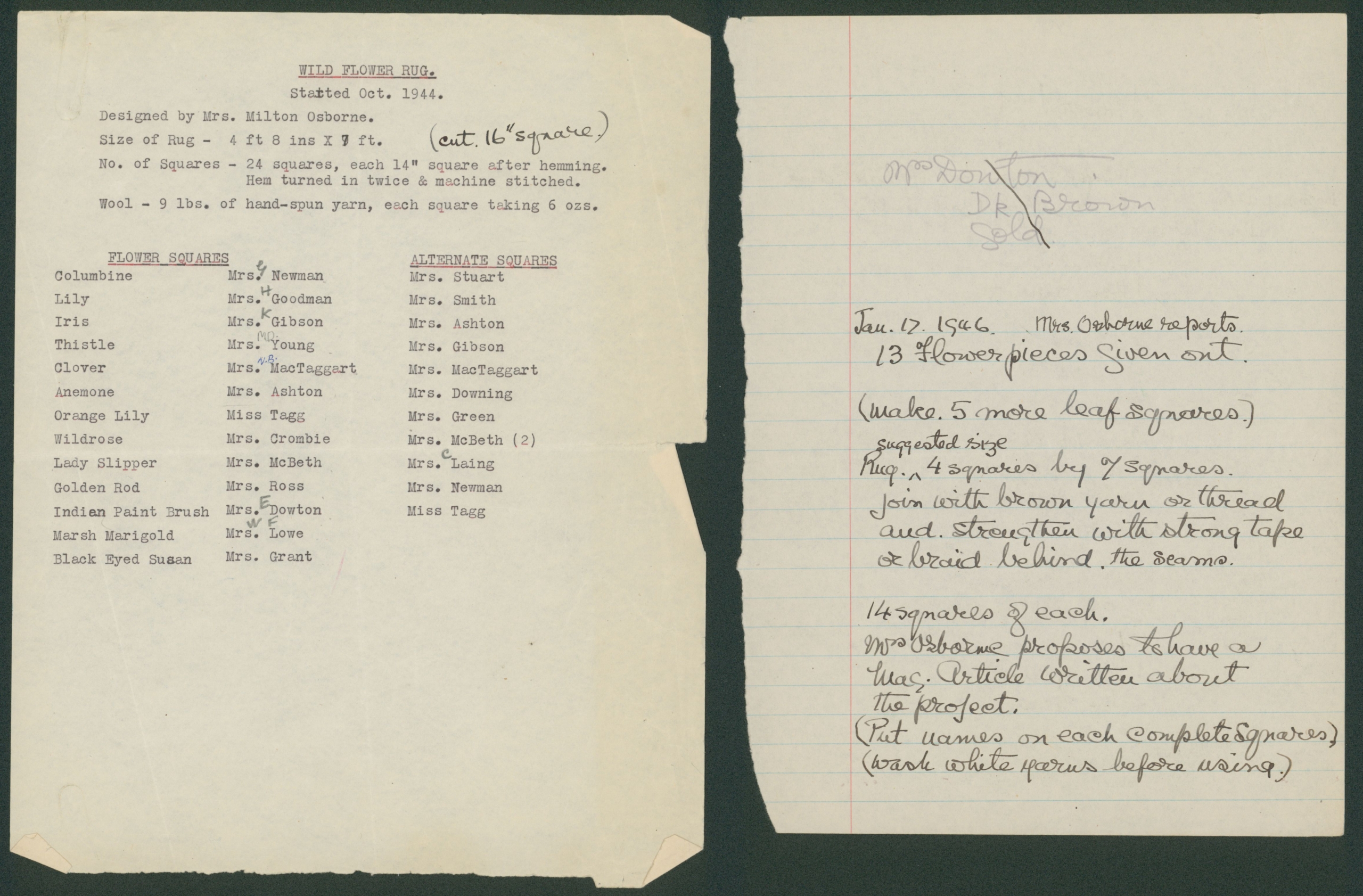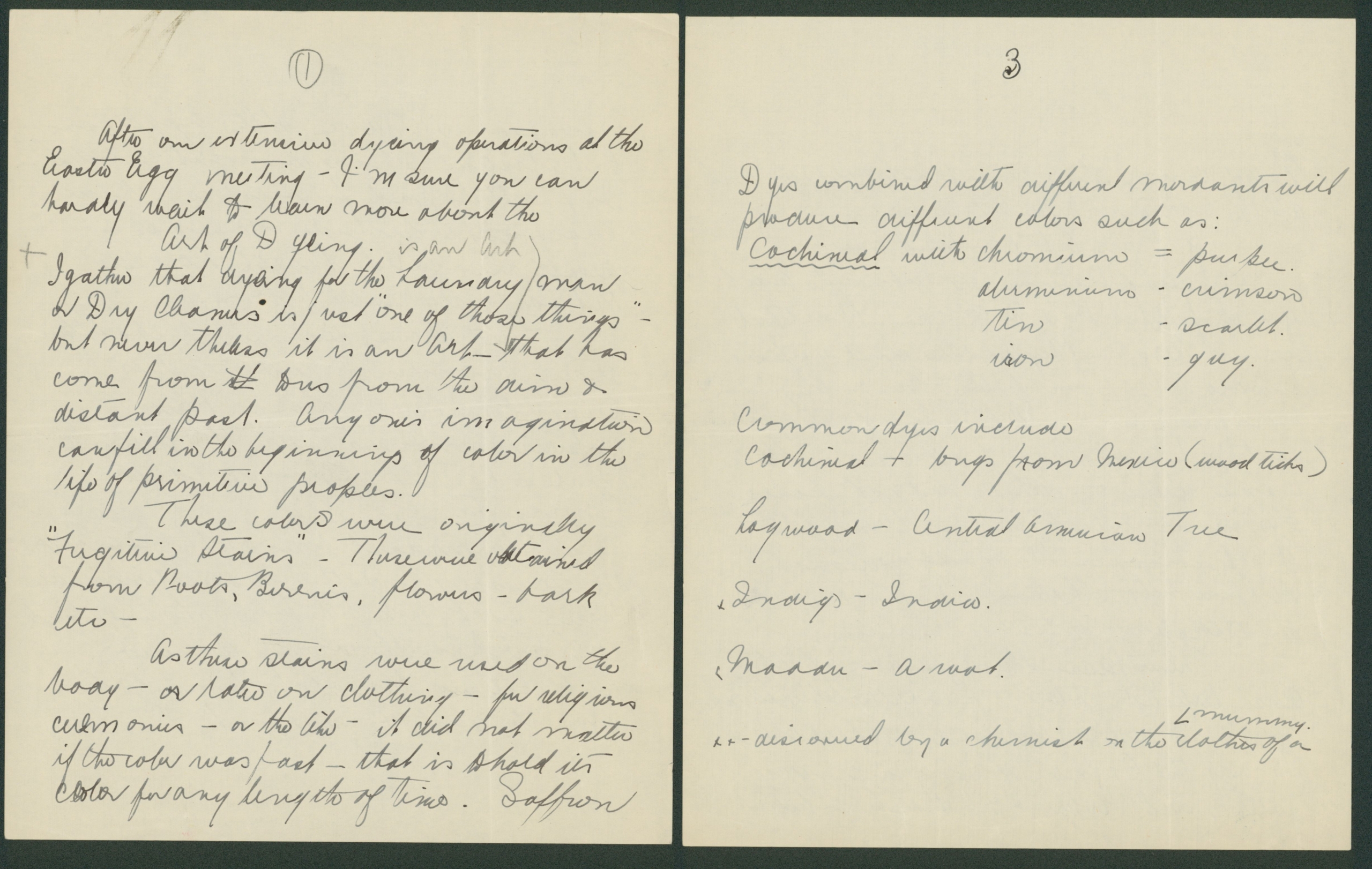 Also in Selina Lawrence's notebook are sketches that show the layout of the rug. These sketches are particularly interesting because they depict the rug in a portrait orientation, whereas the rug in the MCML collection is oriented landscape-wise.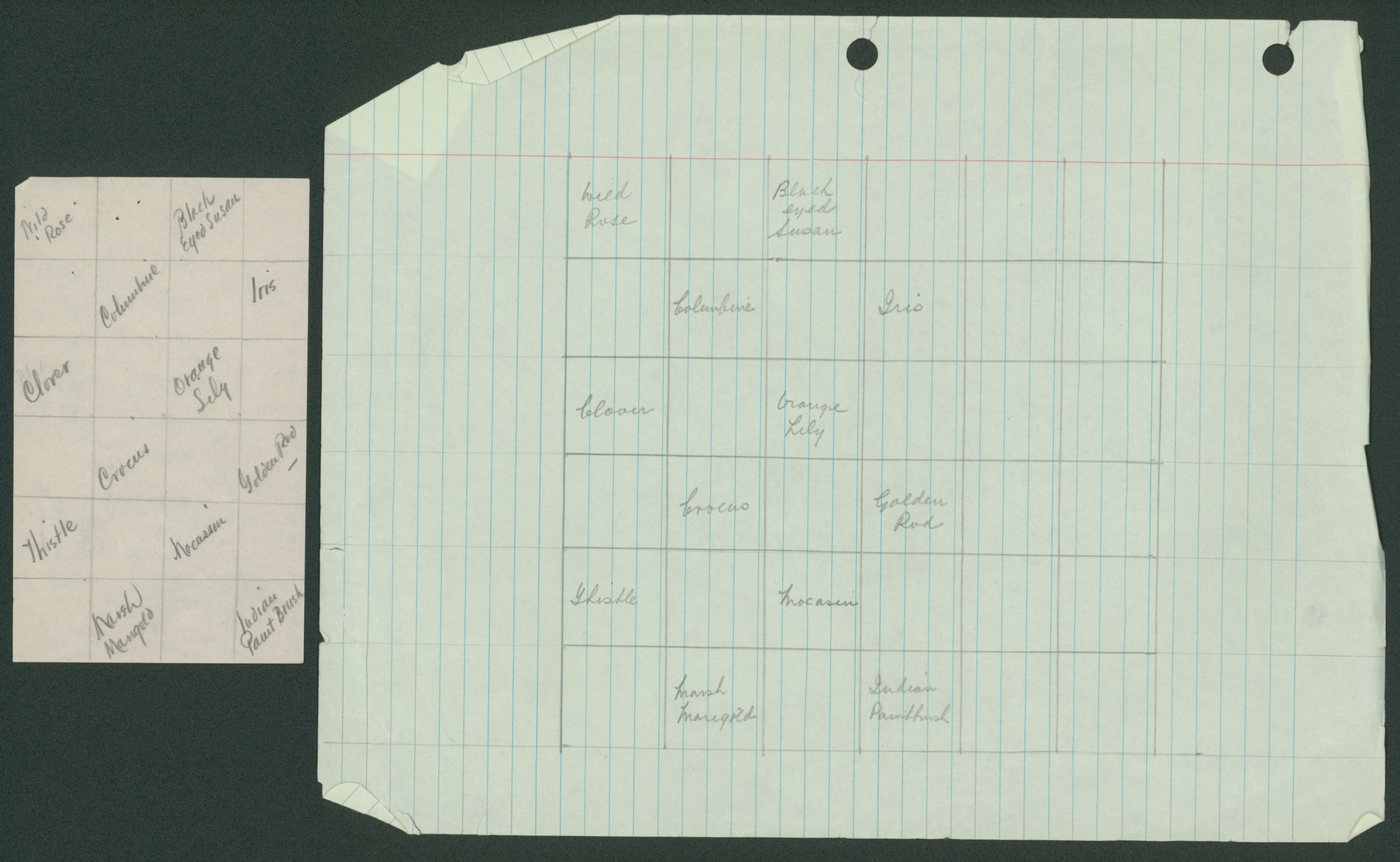 In the spring of 1959 Selina Lawrence wrote to Phyllis Talbot, the Chair of the Guild's permanent collection, requesting approval for the Rug Hooking Group to dismantle and rearrange the rug. At the time the rug was displayed in the Mary MacLeod Room of the Guild's Kennedy building, but because of its portrait orientation was partially blocked by a couch. Later in 1959 Selina Lawrence received approval, and the Group removed the bottom two rows of the rug, reattaching them to the side in order to change the rug's orientation.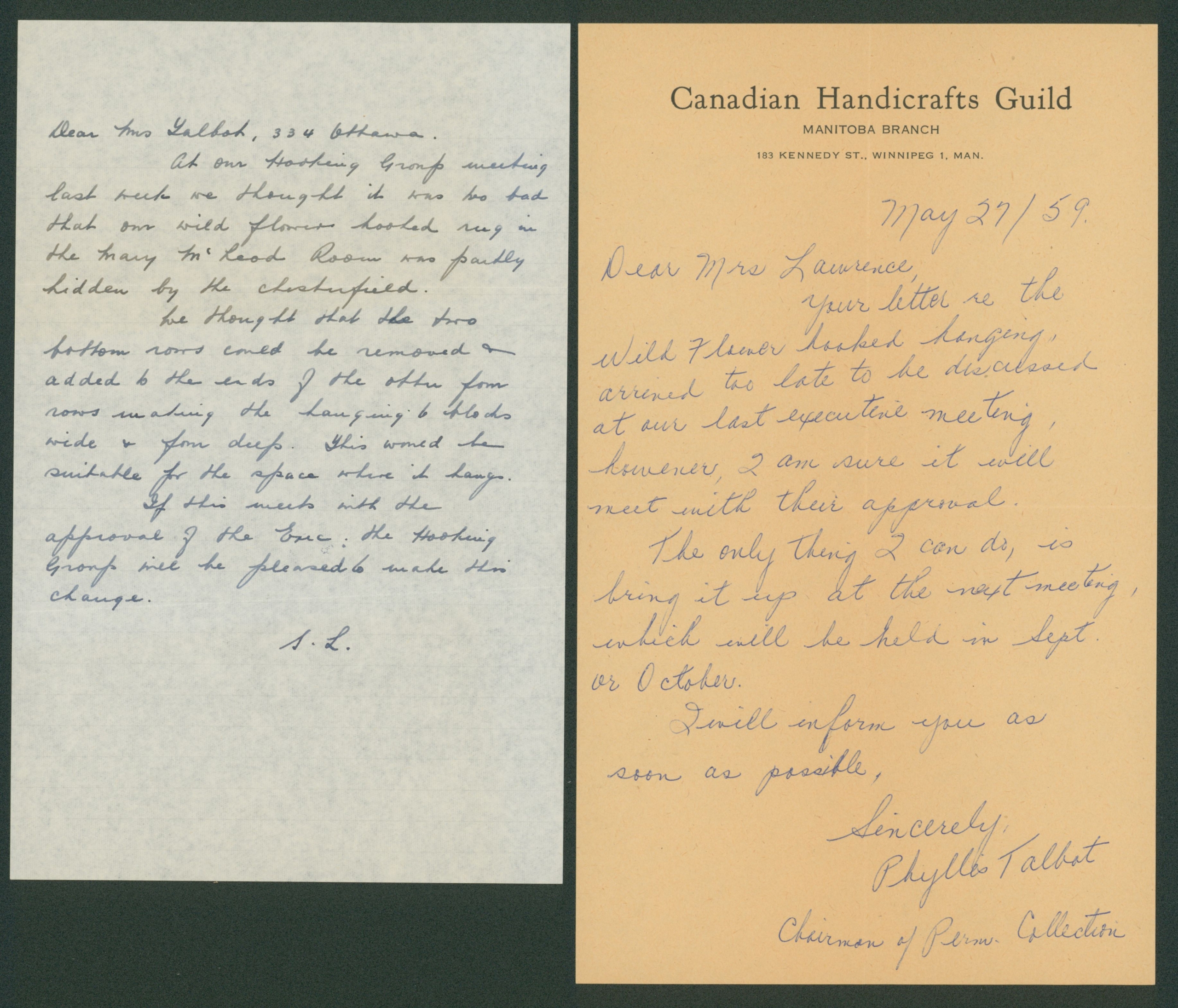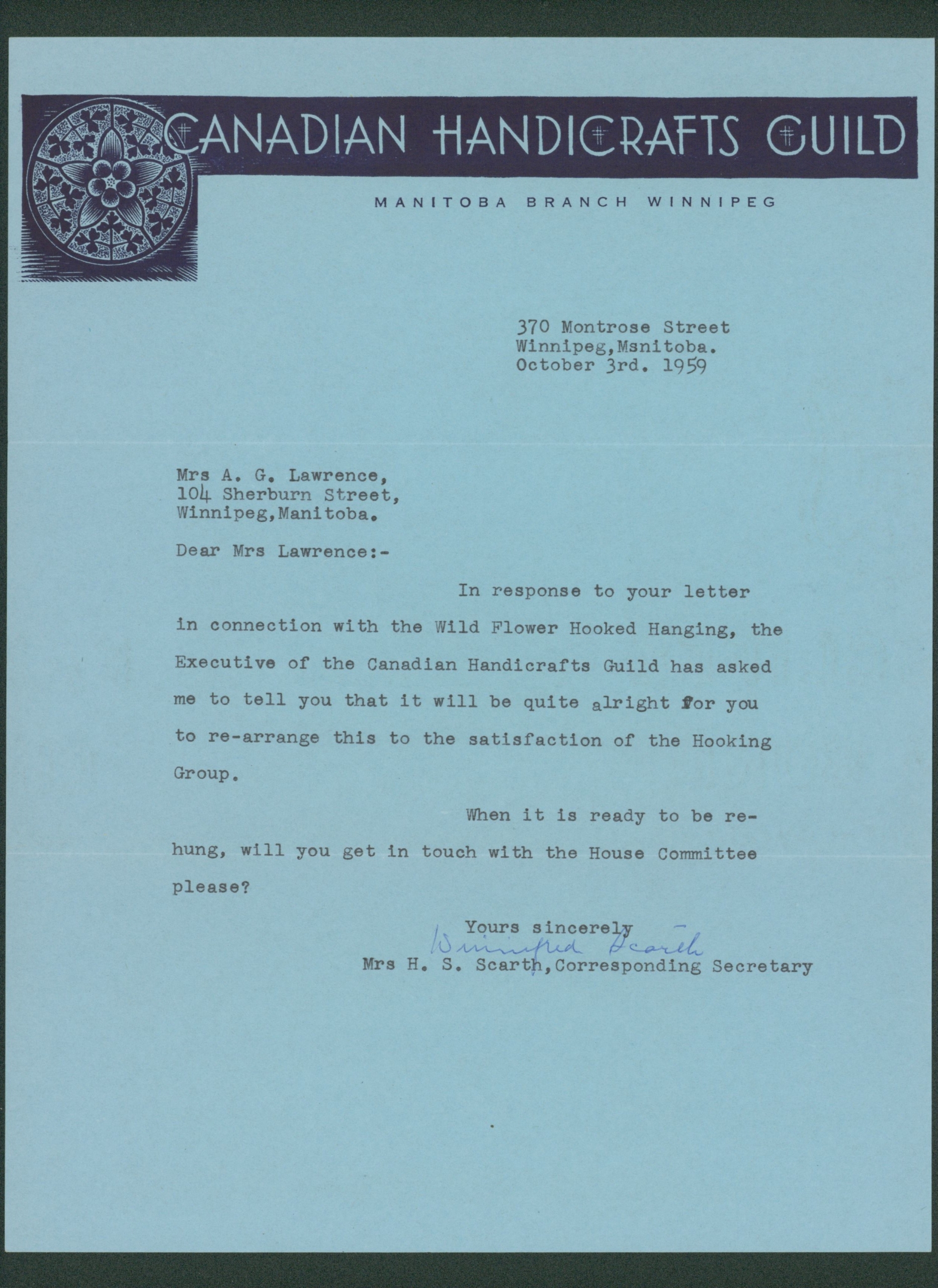 The sketches reveal another change done to the rug. The block labelled "Clover" on the sketch is depicts anemones on the actual rug , and the block labelled "Thistle" is now a second block of orange lilies. For now, these changes are still unexplained.
Written By Caley Dyck
MCML Summer Student 2022
Funding for this blog post was provided in part by the Heritage Grants Program (Province of Manitoba) and the Young Canada Works Program (Government of Manitoba).