You're Invited to become a part of The Cotton Ball, Manitoba Craft Council's 40th Anniversary Fundraiser!
How to get involved…
Cotton Ball Auction
Donate your high-quality artwork to the 2018 Cotton Ball Auction. All proceeds go directly to Manitoba Craft Council's, programs, outreach and operating costs ensuring the continued presentation, interpretation, and production of contemporary Craft in Manitoba.
As in previous years, this Art Auction can be of direct benefit to donating artists with a range of donation percentages to choose from – 50% 75% or 100%. We do ask that you consider a full donation whenever possible. Donating artists are also offered complimentary admission to the Ball Event, where they can participate and enjoy.
Remember that there will be a buying audience at this event interested in fine works and you may consider this as an opportunity to develop a profile with these patrons by submitting prominent examples of your work.
Cotton Ball Process Video
Show us your process!
Unique to this event The Cotton Ball we will be projecting looped time-lapsed process videos  – documenting the process and techniques used by our talented members to create their work.
We are calling for video entries showing our members crafting a piece (or portion of) with the sequences and frames of time-lapse films.  Videos can range between 30 – 60 seconds long equaling between 45 – 120 minutes of filmed making.
Time-lapsed videos can be created on any smart phone device through the camera setting or by one of the following apps:
Lapse It, Framelapse, Microsoft Hyperlapse and TimeLapse.
If you have any questions or technical issues please don't hesitate to contact us.
In final production artists names will be added.
 Example:
Artist: Jonathan Adler Credit: Apartment Therapy
(https://www.instagram.com/p/BfgiQQDlbIg/)
 Important Dates:

Submission Deadline – June 16, 2018
Digital files or slides may be sent by mail, email or may also be dropped off at C2 Centre for Craft, ATTN: Manitoba Craft Council any time before June 16th.
Please include your completed submission form (available online, www.c2centreforcraft.caand attached to this email), a short bio, and a digital image of each work must submitted.
Work Delivery Deadline – June 22, 2018
To the  C2 Centre for Craft, ATTN: Manitoba Craft Council any time before June 22nd.
Ongoing Marketing
In lead up to event, we ask to include your supplied submission and submission images to promote the event and your work (with name and link credit and recognition given).
The Cotton Ball and Auction – June 28, 2018
7-11pm, Tickets $25
An evening of spirited bidding on art works, accompanied by great live music, food, drinks, dancing, and celebration. Held at the Park Theatre, 698 Osborne Street, Winnipeg, MB. Catered with a cash bar.
Call for Submissions Form (Fillable PDF)
Email all submission material or questions to media@manitobacraft.ca
Craft is an important part of our lives, and so is the connection to local community. In addition to raising funds for the Manitoba Craft Council and our dedicated outreach and programming, MCC invites everyone to introduce the world of craft and culture.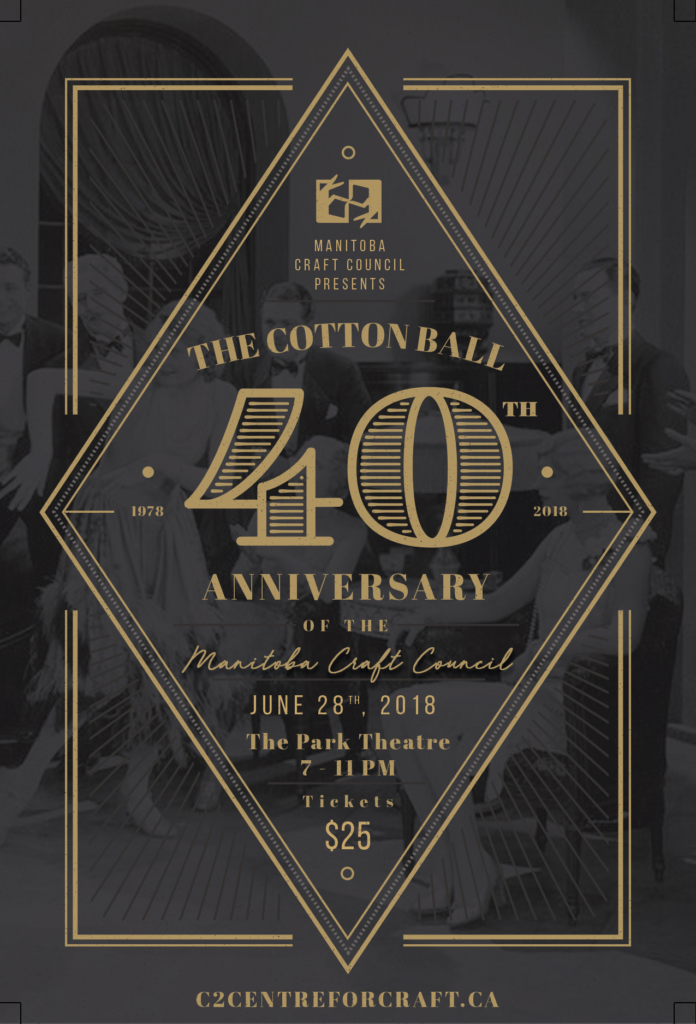 Tickets: $25
Available in person at C2 Centre for Craft:
1-329 Cumberland Avenue, Wednesday to Saturday, 12 – 4 pm
Or online at c2centreforcraft.ca
June 28th, 2018, 7:00 – 11:00 PM
The Park Theatre
Wheelchair accessible.



Purchase Tickets:
Or visit us at:
1-329 Cumberland Ave, Winnipeg,
Wednesday to Saturday, 12 – 4 pm
to purchase your tickets in person
Call 204.615.3951 to pay by credit card.